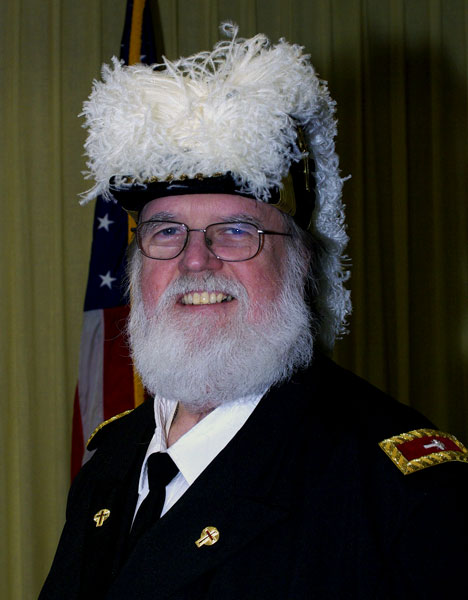 Richard E. Schlaudroff
Commander 2013
Past Commander Schlaudroff is a native Dallasite. He received a bachelor degree in philosophy and religion from Austin College in Sherman, Texas, and holds graduate degrees in theological studies, medieval history, philosophy, and library science from Harvard, Columbia, Fordham, and Texas Woman's Universities, respectively. He has earned advanced graduate certificates in library science and archival administration from The University of North Texas and The University of Texas at Arlington, and has done addition graduate work in American and Texas history at The University of North Texas. He has worked in higher education for more than thirty years.

Brother Schlaudroff was raised a Master Mason in Dallas Lodge No. 760, where he served as its Master in 2010-2011 and 2013-2014. He is also a member of Northern Star Lodge No. 377, serving as its Chaplain in 2011-12. He is a member of three Royal Arch Masons chapters: Dallas Chapter No. 47, Grand Prairie Chapter No. 489, and R. C. Buckner Chapter No. 108 and three Royal & Select Masters councils: Dallas Council No. 18, Grand Prairie Council No. 404, and R. C. Buckner Council No. 67. He received the Order of the Temple in Dallas Commandery No. 6 in 2007 and served in most line stations before being elected its commander. He is a member of the Texas Chapter, Order of Knights Preceptor and Lyle L. Cross York Rite College No. 147. He is a Past Sovereign Master of Grand Arcanum Council No. 447, AMD, Charter Secretary of the Loyd L. Chance Council No. 522, AMD, and Secretary of the Texas AMD Association. In 2013, he was received into the Royal Order of Scotland and is Founding Secretary of Thomas Becket Chapel No. 31 of The Commemorative Order of St. Thomas of Acon.

A member of the Ancient and Accepted Scottish Rite, Brother Schlaudroff received all twenty-nine degrees, becoming a Sublime Prince of the Royal Secret in 2007 in the Valley of Dallas. In 2011, he was awarded Knight Commander Court of Honor by the Supreme Council and the next year was named Historian of the Valley of Dallas. He continues to be active in degree performances on three degree teams and is a co-chair of the Valley's Scottish Rite University Symposium program, among his other duties.

Brother Schlaudroff is also a Full Member of the Texas Lodge of Research, serving as its publications editor, and a member of the Scottish Rite Research Society.
---
Every Christian Mason should be a Knight Templar

Dallas Commandery No. 6 Copyright 2009. All rights reserved.
Please send any comments or questions regarding this Web site to: Commandery 6 Webmaster