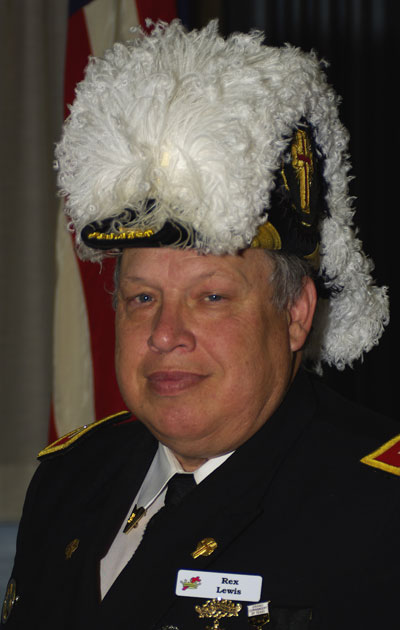 Rex S. Lewis
Commander 2007
A native Texan, Past Commander Lewis holds B.S. and M.S. degrees in Electrical Engineering from Southern Methodist University. He was initiated a DeMolay at James Ladd Burgess Chapter, where he received the Chevalier Award and received the Active Legion of Honor Award in 2008. In 1969, Brother Lewis was raised a Master Mason at James Ladd Burgess Lodge No. 1305, where he is currently an endowed member. He served as Worshipful Master of that lodge in 2005-2006 and president of the 14th District Masters, Wardens, & Secretaries Association the same year. In 2008, he served as District Deputy Grand Master for Masonic District 14D. He is also a member of Edwin J. Kiest Chapter No. 953, Order of the Eastern Star, having served as Worthy Patron six times.

Active in the York Rite, Sir Knight Lewis is a member of Dallas Chapter No. 47, Royal Arch Masons, and Dallas Council No. 18, Royal & Select Masters. He served the latter body as its Thrice Illustrious Master in 2007-2008. He is also affiliated with R. C. Buckner Chapter No. 108, where he served as its High Priest in the same year. He became a member of Dallas Commandery No. 6 in 1997 and has been active on both the Drill and Ritual Teams. He served as Commander of Dallas Commandery in 2007 and is proud to have been a member of the Dallas Commandery Drill Team that won the Class &quotC&quot Triennial Championship at the Grand Encampment in 2009. In 2008, Sir Knight Lewis affiliated with Alexander C. Garrett Commandery No. 103, serving as its Commander in 2012. In 2009, he was awarded the Knight York Cross of Honor by the North Texas Priory. In 2011-2012, he served as Deputy Governor of Lyle C. Cross York Rite College No. 147. He is also a member of Holy Stone Council No. 274, Allied Masonic Degrees, serving as its Sovereign Master for 2012.

A member of the Texas Lodge of Research; Commemorative Order of St. Thomas of Acon, Odessa Chapter No. 85, and the Hella Shrine, Sir Knight Lewis has served on committees for the Grand Lodge, Grand Chapter, Grand Council, and Grand Commandery of Texas.

Sir Knight Lewis remains active in his church, where he has taught Sunday School, and has been devoted to the Boy Scouts of America for over 30 years. He received the Silver Beaver Award from the BSA Circle Ten Council and the Beard Scouting Award from the Grand Lodge of Texas.

Happily married to his lovely wife Eileen, Brother Lewis is enjoying retirement after a 35-year career with Texas Instruments.
---
Every Christian Mason should be a Knight Templar

Dallas Commandery No. 6 Copyright 2009. All rights reserved.
Please send any comments or questions regarding this Web site to: Commandery 6 Webmaster