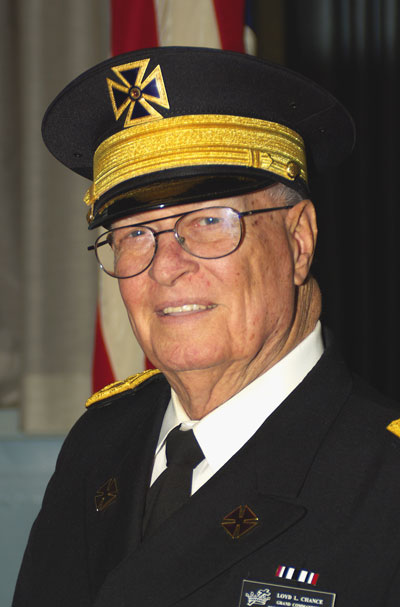 Loyd L. Chance
Commander 1972
Commander 1986
While in high school, Past Commander Chance joined the U. S. Army and served in the Korean War, where he received the Bronze Star decoration. After returning home, he worked in the trucking industry until his retirement. A fifty-year member in many of the principal Masonic bodies, Brother Chance served the fraternity faithfully, honorably, and with great distinction in many capacities. A Past Master of Metropolitan Lodge No. 1182, he was chosen to serve as District Deputy Grand Master of Masonic District 14A in 2004. He was a Past High Priest of Dallas Chapter No. 47, Royal Arch Masons, and Past Thrice Illustrious Master of Dallas Council No. 18, Royal & Select Masters. He also served as Treasurer in both of those bodies. In 2000, he served as District Deputy Grand High Priest for the Grand Chapter of Texas, Royal Arch Masons. Twice Commander of Dallas Commandery No. 6 and its Recorder for 20 years, Brother Chance served as Grand Recorder of the Grand Commandery of Texas, Knights Templar, for 14 years. In 2003, he was made Honorary Past Grand Commander of the Grand Commandery and, in 2011, Recorder Emeritus. A Past Governor of Lyle L. Cross York Rite College No. 147, he served as Grand Governer of Texas, York Rite Sovereign College of North America, from 2006 to 2010.

The bredth of his service to the fraternity was indeed admirable: Past President, Audie Murphy Chapter No. 112, National Sojourners; Past Commander, Goliad Camp, Heros of '76; Secretary-Treasurer, L. A. Pires Charitable Foundation; Executive Director, Dallas Masonic Service Bureau; Grand Treasurer of the Commemorative Order of St. Thomas of Acon; Preceptor, Sovereign Order of Knights Preceptor, Texas Chapter; Knight Preceptor, Our Redeemer Tabernacle No. IX, Holy Royal Arch Knight Templar Priests; Sovereign Master, Robert Bruce Brannon Council No. 270, Allied Masonic Degrees; as well as memberships in the Red Cross of Constantine, Knight Masons, and the Royal Order of Scotland. A longtime member of the Scottish Rite, Brother Chance was awarded the Knight Commander Court of Honor and Scottish Rite Meritorius Service Award by the Valley of Dallas, where in 2006 he also served as the Master of Kadosh. In the fall of 2011, the Dallas Scottish Rite dedicated its 389th Reunion to Brother Chance, only the second KCCH ever to be so honored.

Brother Chance's other awards include: Knight Commander of the Temple, Grand Encampment of Knights Templar of the U.S.; Legion of Honor, DeMolay of Texas; Knight York Cross of Honor, and Service Award, both from the Sovereign Grand York Rite College of North America.

He mentored and led by precept and by example.
---
Every Christian Mason should be a Knight Templar

Dallas Commandery No. 6 Copyright 2009. All rights reserved.
Please send any comments or questions regarding this Web site to: Commandery 6 Webmaster